Profile: Gilbert Amelio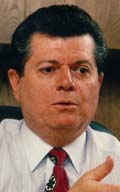 Published: Feb. 2, 1996
CURRENT JOB: 52-year-old chairman, CEO and president of National Semiconductor Corp. Is on the board of directors for Apple Computer Inc., Chiron Corp. and Pacific Telesis Group.
HIS STYLE: Amelio has a reputation for reviving financially troubled companies.
HIS BACKGROUND: He became CEO of National Semiconductor Corp. in May 1991. Before that, he was president of the semiconductor division of Rockwell International Corp. He has a doctorate in chip research and started his career as a scientist at AT&T's Bell Laboratories in New Jersey. He is the holder of 16 patents. In 1971, he joined Fairchild Camera and Instrument Corp.'s semiconductor division. He moved to Rockwell in 1983.
---